Location:
300 Main Library, 3rd floor
Hours:
The DigiLab is open all hours that the Main Library is open. The space and computers are available to all UGA students and faculty on a walk-in basis when not reserved for a class or event. Check out our news and events calendar!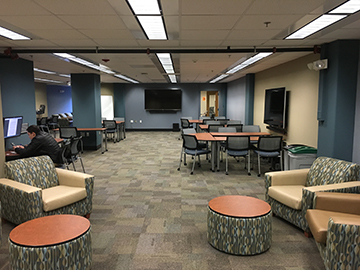 The DigiLab is a space designed for collaboration and innovation, founded with support from the UGA Libraries and the Willson Center for Humanities & Arts. The state-of-the-art instruction space is outfitted with flexible workspaces for individual or collaborative projects.
The computers (10 desktops and 10 laptops) provide special software to support work in the Digital Humanities. Each computer is equipped with Digital Humanities specific software including Gephi, Mallet, and the Adobe Creative Suite. See Software page for a full list.
In addition to instruction we also offer consultation on digital project development, grant writing, and data management. The Lab is also the central hub for the DIGI undergraduate certificate in Digital Humanities.
For more information on all of our initiatives, visit digi.uga.edu or contact DigiLab staff at digi@uga.edu.